PCI
Hello, dear traders. Today we are going to technically analyze a special instrument created with the
GeWorko
. We have recently watched the sterling against the US dollar moving from 6-year highs at 1.7187 to as low as 1.6599, that is 3.5% in one and a half month. Also the GBPUSD declined yesterday to new lows with technical oscillators being oversold.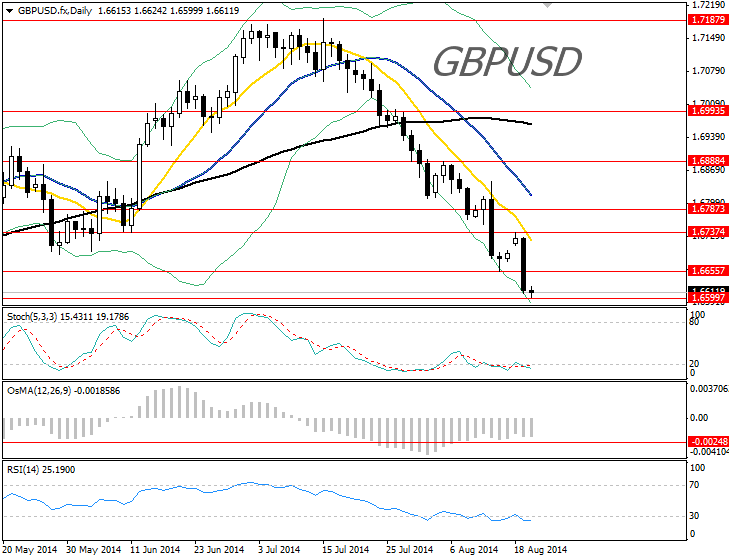 We decided therefore to check the validity and the strength of bears in the British pound against a broad basket of currencies; we also included the golden metal. We created a financial instrument with the GBP as base currency and quote currencies the Aussie, the Canadian, the Swissy, the Euro, the Yen, the Kiwi, the Greenback and the Gold. We named it
GBP Ratio
.
By using
NetTradeX
we are able to create our own Personal Composite Instrument. We use equal weights for the quote currencies and the Gold, in order to capture the impact of all the counterparties to the British pound. Each quote party has equal weight of 12.5%. So when the GBP ratio goes up it means that the British pound gains against the quote parties and when the GBP Ratio falls means that the Sterling eases. For a guide on how to create your personal composite instruments (PCI) by using Geworko Method check out this link
PCI Guide
.
Now let's look at the GBP Ratio price chart. We can observe a clear down trend on the index with a valid falling trend line as an indication. The down trend started from the 16th of July 2014 at 1.0172 and since then the pound has been on a downfall against its peers, it reached the support at 0.9971 on the 15th of August which is almost a 3-month low. Based on this financial instrument the pound lost during this period almost 2% which is less than 3.5% drop of the GBPUSD. That confirms the oversold technical oscillators in the GBPUSD as the higher negative move reveals the overextension. Also, one can observe that the GBP Ratio failed to make a new low therefore we could conclude that there is a bullish divergence compared to the GBPUSD price chart.
Moreover, the Stochastic is currently in the oversold territory and the OsMA is at previous bottoms for the GBP Ratio suggesting that a retracement is more likely. In our opinion and based on that technical analysis the GBP Ratio could provide some significant conclusions for the British pound like that the currency is oversold and overextended to the downside which drives us to forecast that is more likely to see a retracement to 1.0024 or even to 1.0071. Lastly, with the analysis of the GBP Ratio we come to the conclusion that the GBPUSD is more likely to enter in corrective wave in the following trading sessions.
Questions and suggestions:analytics@infinmarkets.com
| | | | | | | |
| --- | --- | --- | --- | --- | --- | --- |
| Уровни | RES 3 | RES 2 | RES 1 | SUP 1 | SUP 2 | SUP 3 |
| Значение | 1.0102 | 1.0071 | 1.0024 | 0.9971 | 0.9932 | 0.9865 |
Показать график
Скрыть график
20 августа 2014 г. @ 9:52