Good morning traders. Yesterday we said that we were waiting for US housing data and Australian inflation release. Firstly in US Existing Home Sales were slightly better than expected providing nice support for the US dollar index which jumped to cap at 79.96, however afterwards retreated lower.
Secondly, the Australian dollar dipped from 0.9377 to 0.9270 due to slower inflation than projected. That has decreased speculation for Reserve Bank to higher its interest rates to fight rising consumer prices. Moreover, the HSBC flash Manufacturing PMI for China was lower than forecasted decreasing risk appetite and adding more weight on the AUDUSD. The sudden drop of the kangaroo forex pair breached key support at 0.9312 and created a new one at 0.9270. Prices overpassed the lower Bollinger band and for that reason we expect return back into the bands before the downside continuation revives. Looking ahead for the AUDUSD we are expecting the US New Home Sales release later today.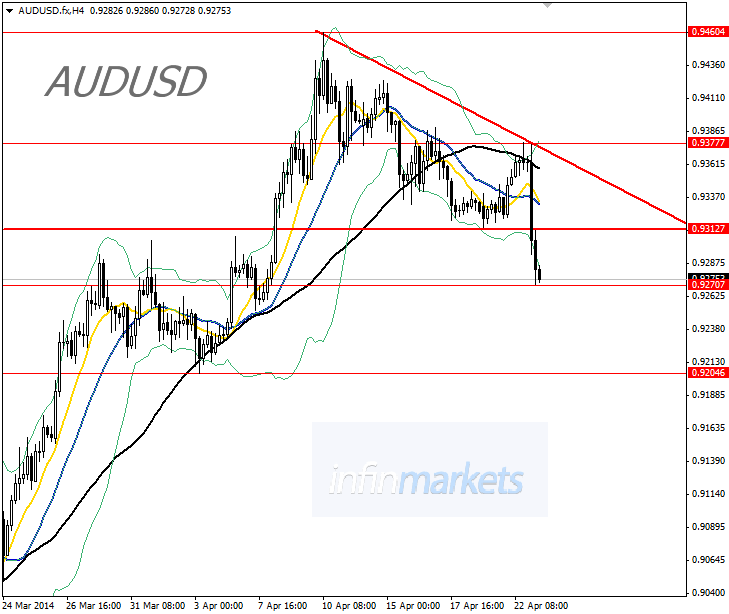 Elsewhere, the Euro was bombarded as of typing by French Markit PMI indicators which were lower than anticipated and the EURUSD start plummeting. PMI data are still in watch list for Germany and then for Euro-zone. The common currency against the greenback created a long upper shadow at the hourly candlestick and dropped from 1.3835 to as low as 1.3798 with volatility increasing during releases.
In focus, is the Bank of England minutes and UK Public Sector Borrowings for the Wednesday trading session. The GBPUSD is slightly below its four and a half year high at 1.6843 and should we see some willingness by some of the BOE members to normalize monetary policy then the forex pair could overpass this key upside limitation.
Questions and suggestions:analytics@infinmarkets.com