Sluggish employment data in Australia weighed on AUDUSD. The currency pair dipped sharply from 0.9029 to support at 0.8927 as the unemployment rate unexpectedly jumped to 6.0% for January from 5.8% in December.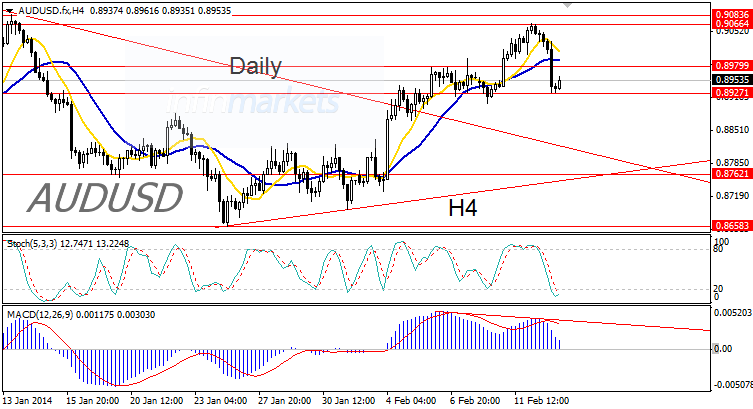 In the last two weeks the AUDUSD retraced from more than 3-year lows at 0.8658 to 0.9066, increasing upside potentials. Moreover, the RBA said last week that interest rates enter a period of stability. However recent employment weakness may trigger bearish resumption. Technically in the daily timeframe downtrend was breached but there is no reversal pattern, thus we still consider the last upside a corrective move.
The US dollar index as of typing is retreating below its daily uptrend line at 80.41 looking towards 3 week low at 80.10 ahead of US Retail Sales data and US Jobless Claims.
ECB's February monthly bulletin indicated that the central bank remains steady at is guidance to hold low or even lower interest rates for an extended period of time. Nonetheless, low inflation data coming today from Germany as well as downward revision of inflation expectation at the monthly bulletin seems like it underpins the common currency. The EURUSD climbed to more than 2 week peak at 1.3685, showing some strength towards further upside levels.
Lastly, the British pound against the greenback was well supported by BOE Governor Mark Carney yesterday and continues its upside today. The pair advanced near 2 and a half year peaks at 1.6665.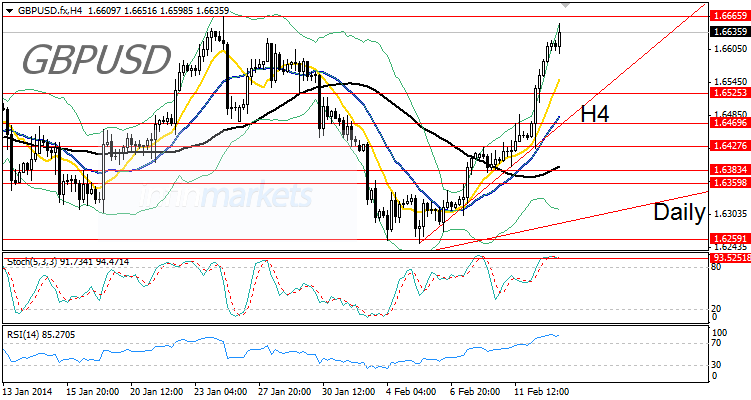 Based on the chart, we would not expect the GBPUSD to breach cap at 1.6665 amid overbought technical oscillators coupled by a strong resistance level.
Questions and suggestions:analytics@infinmarkets.com