Good morning everybody out there. First we will look at the British pound against the US dollar performance after the better than projected employment report. Claimant count change declined by 30.4K and the unemployment rate plunged to 6.9%, down from projections at 7.2%. The GBPUSD jumped sharply to cap at 1.6820 and earlier today breached that level rising to a fresh 4 and a half year high at 1.6837. As we enter Easter holiday period the currency pair is expected to extend into sideways trading.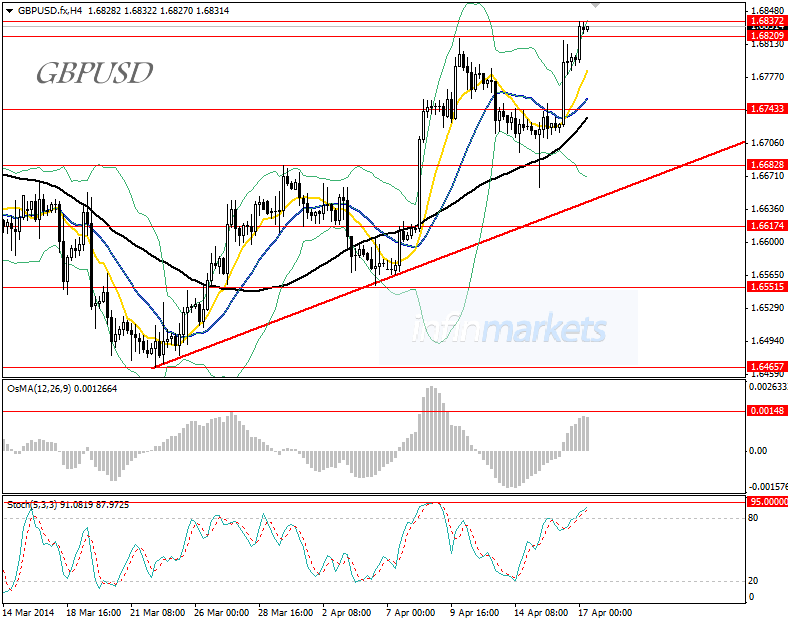 Elsewhere, the US dollar against the Japanese Yen declined from 102.35 to 101.85 after BOJ Governor Haruhiko Kuroda said that enhancive monetary policy will continue until deflation is over. We do not expect any major economic release for the Japanese Yen this week but we are focused for US Jobless Claims and Philadelphia Fed Manufacturing Index.
Moreover, the Bank of Canada maintained the key rate yesterday at 1.00% in line with expectations. The greenback against the Canadian peaked to 1.1032 and trades now around 1.10. Later today the Canadian CPI data will be released and is widely expected to be higher than previous figure. Higher inflation than projected could increase the value for the Candian dollar.